American Miniature Cheviot Sheep
The ideal dual purpose small sheep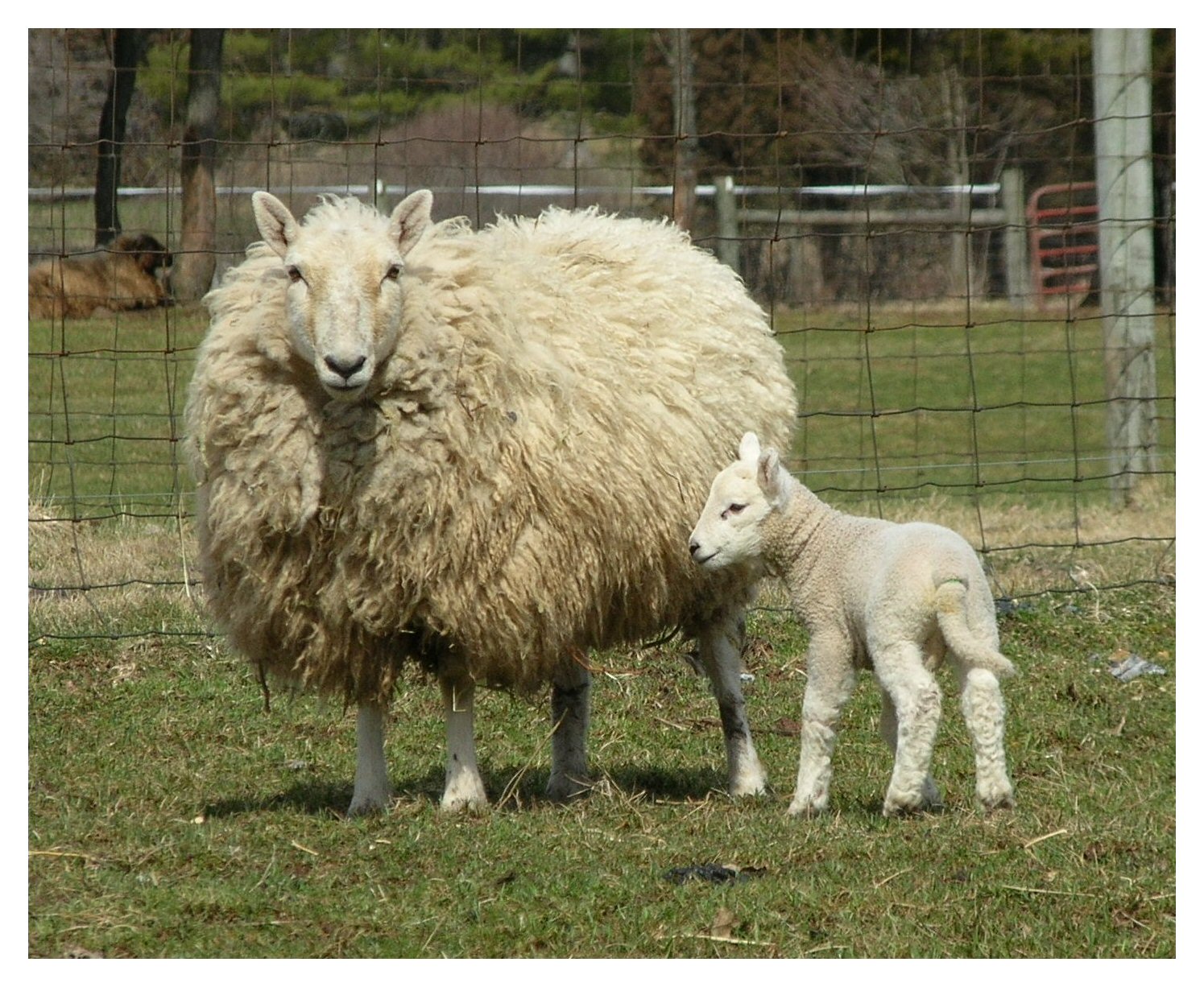 First take a minute (or a bit more) to view this video of a dozen spring lambs as they frolic one evening. It is a great introduction to our adorable Mini Cheviot sheep.
Now aren't you glad you did?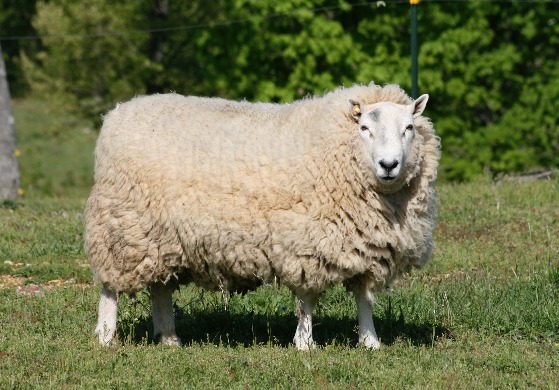 American Miniature Cheviot Ram
AMC sheep are a small breed, originally bred as Brecknock Hill Sheep on the moors of Wales. The ewes weigh in at about 100 lbs. and the rams are 25-40 lbs larger. They are dual purpose sheep but their wool is their claim to fame. It is a medium grade, with a staple of 3-4 inches and a unique helical crimp. This crimp allows the yarn to have a special loft and makes it easy to spin. They have two colors, white or dilute black. The dilute black gives a grey tweedy appearance to the wool because it is composed of intermingled black and white fibers. The AMC has a small head with a "roman" nose and closely set erect ears. They are naturally polled. The ewes are easy lambers, being developed on the open moors and only brought into the croft once a year.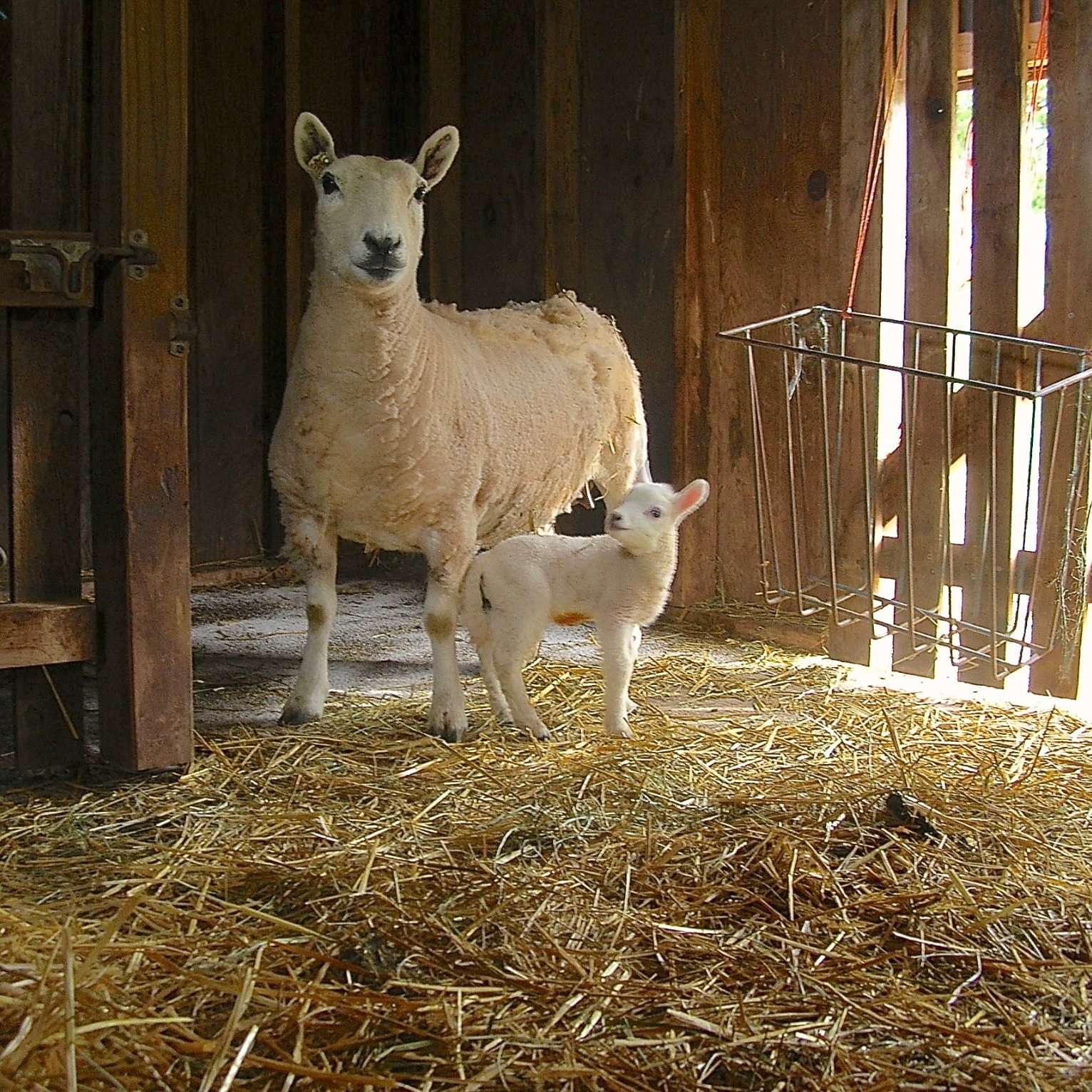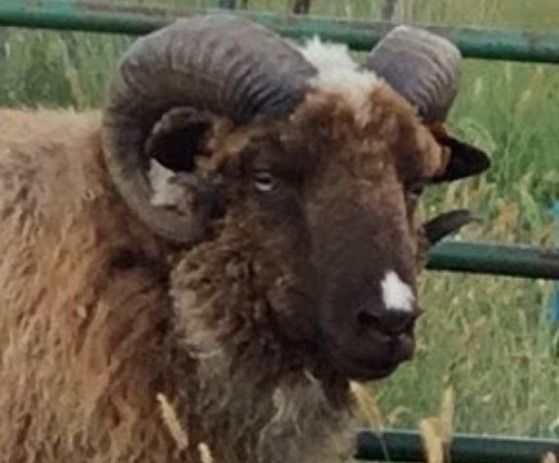 Shetland sheep are a hardy breed originating in the Shetland Islands. They are small, with the rams weighing about 125-150 lbs and the ewes about 100 lbs. They have a straight nose and their ears are set slightly to the side. The rams have horns that grow to an attractive curve. Their wool is famed for its soft medium grade, and it comes in a wide variety of colors shading from white, through browns, to black, with many combinations. Its staple is about 4" and they have a flat crimp. Their wool is very easy to spin, and can be spun to a fine thread, leading to the "wedding ring shawls that can be drawn through the groom's wedding ring"!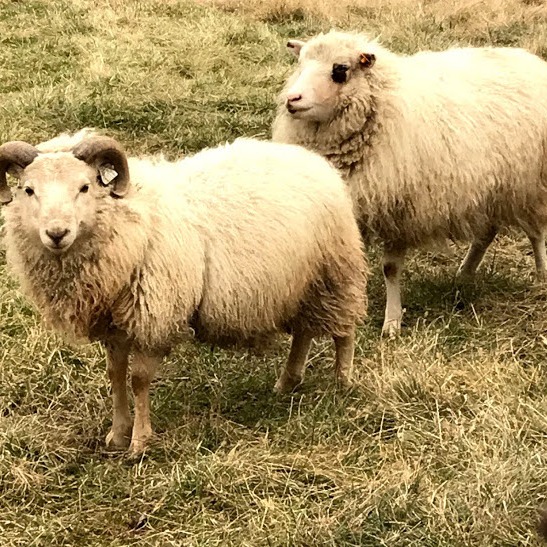 Young Shetland ram and ewe
This little lamb, shown with her mother, weighed about 3 lbs. so we had to keep her in away from the hawks! She was an exception - our singles weight about 6-7 labs, with twins ranging 5-6 lbs. apiece.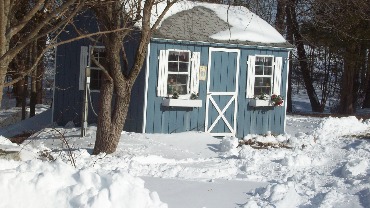 Toni's studio, tucked under a willow tree and overlooking the ram pasture. It has heat and power, but no telephone ;-)
Products Of The Shepherd's Croft
The Studio
Each year we have about 20 fleeces to sell after the April shearing. The raw fleeces are carefully picked and skirted. We will post the list available as soon as shear in is over in late April. They will be available for sale from shearing until the New Jersey Sheep and Wool Fair in September. If there are any remaining after the Fair they will be posted on the website.

We had a rain delay on shearing day at the end of April, but were able to shear 20 ewes and wethers and rough skirt them, removing most of the manure, undesirable wool (legs, belly, kemp) and bag them. Next they will be taken out and show-skirted, getting them ready for sale this summer and for the New Jersey Sheep and Wool Fair in September. They will be slightly discounted while they are still rough skirted, and I expect to list them here soon. But when they have been show-skirted (remove any remaining unwanted wool and "monkey-picked" by hand to clean up any vegetable matter, they will be re-listed at the full sale price. We are well-known for our clean fleeces and take pride in their preparation.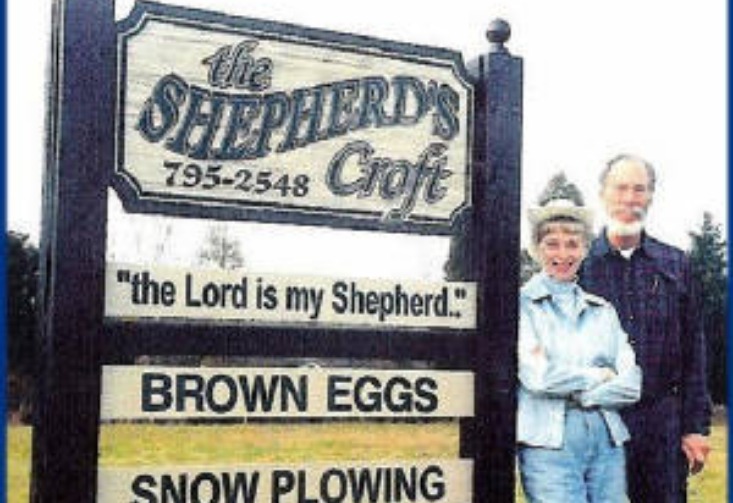 Toni and Pete Kellers - the shepherdess and her favorite farm hand
Shepherd's Croft
721 Cedar Lane, Perkasie PA 18944
215-795-2548
crofter1@verizon.net